Mode selection probe, cleaning and freezing can be performed automatically using footswitch or touch screen which allows to keep the site of a procedure under sterile conditions.
Electronic communication (chip system) between the connected probe and device allows recognition of optimal operating parameters and auto-configures to cryoprobe characteristics. Pressure and gas flow are set automatically, any manual adjustment is not necessary
Contains automatic cryoprobe test system and two freezing modes (continuous and sequential). Probe test system includes autocleaning and short freezing test.
Cryoprobe temperature, cylinder pressure, glass flow inside of cryoprobe and procedure time are displayed during freezing.
Built - in voice communication
Built - in neurostimulation (sensory, motor).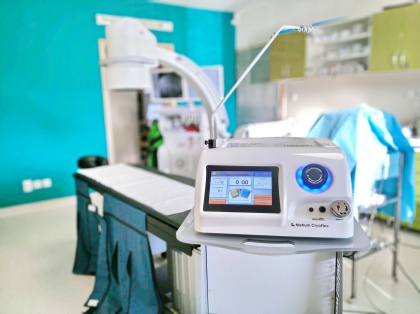 COOLING SOURCE
CRYO-S PAINLESS state-of-the art cryosurgical device manufactured by METRUM CRYOFLEX is the next generation of apparatus used by many experts in the field since 1992.
The working medium for device is carbon dioxide CO2 (-78 Celsius degree) or nitrous oxide N2O (-89 Celsius degree), very efficient and easy to use gases. A 10 liter cylinder of C02/N2O serves for approximately 60 procedures.
Device is controlled by a microprocessor and all the parameters are displayed and monitored on a LCD screen.