The special design of the cryoprobes allows precise freezing and fast thawing. The tip of a probe inserted percutaneously is sharp or blunt. Cryoprobes that aim to stick to the nerve more closely are rounded and inserted through disposable or reusable cannulas. Apart from the tip, cryoprobes are covered with medical teflon which allows stimulation at the probe tip only. High echogenicity of cryoprobes enables ultrasound-guided treatments.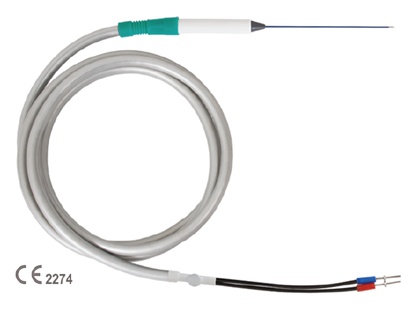 DISPOSABLE CRYOPROBES
Description
The disposable cryoprobe is indicated for temporary interruption of sensory functions in selected structures of the nervous system by application of low temperature (freezing). The tissue is frozen after applying the freezing tip of the probe to the tissue and starting the freezing procedure. During operation, the freezing tip cools down to a temperature of -30°C to -60°C. Disposable cryoprobes are available in various lengths and sizes from 21 to 14 Ga, with various types of tips (triangular tip / round tip / needle tip).
Specifications
Catalogue no.
Size
Diameter
Type of tip
Length of tip
Freezing tip
Order
A-08/20/N/RF
21 Ga
0.8 mm
needle
20 mm
20 mm
 
A-08/90/N/RF
21 Ga
0.8 mm
needle
90 mm
90 mm
 
A-13/120/T/RF
18 Ga
1.3 mm
triangular
120 mm
7 mm
 
A-13/120/R/RF
18 Ga
1.3 mm
round
120 mm
7 mm
 
G-30/2/RF
14 Ga
2 mm
triangular
150 mm
10 mm